Will Ethereum (ETH) Stay Ahead of The Bearish Pressure?
Ethereum has gone through many ups and downs since the beginning of the year due to the continual volatility in the crypto market. ETH has been through varying degrees of bull and bear phases with the bear phase dominating the price. The YTD price movement shows the varying price of ETH coin in the range between $125.107 – $316.325.
Ethereum Price Analysis:
ETH coin is trying to get out of the bear grip, as seen from the YTD price chart. 2019 did not begin on a good note for the coin, with the price showing at $125.1072 on March 04.
On April 08, Ethereum price was still below the baseline but went slightly up to $180.4701, the upper range being to the extent of 44.25%. With the crypto market volatility continuing, the price of ETH coin went down to $153.4359 by 15.12% on April 27.
The period after this saw a good rally, and the price rose to a huge 106.34% at $316.3254 on June 26. The bears had gone active by then, and the price of Ethereum began to be under continual bear pressure. It fell to $169.1282 on September 06 at a rate of 46.49%.
The price of ETH coin has shown a slight recovery on November 6 at $188.8702, recovery being to the tune of 11.67%. The current day's price is at $176.1067, the fall being 6.75%.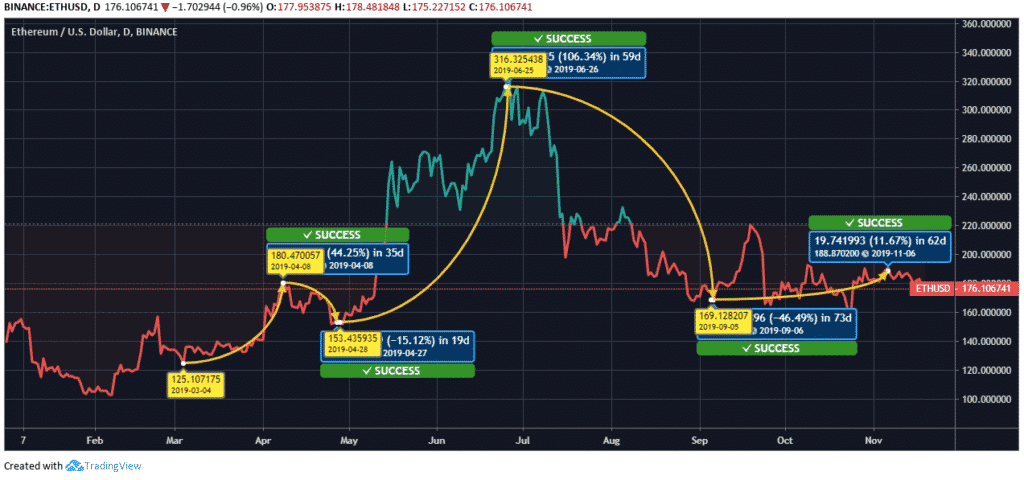 ETH price had to face the heat of the bears since the bearish phase began in the crypto market in July. The price is still trying to get out of this mode with success at some intervals. Analysts expect the short-term trend to be bearish for the coin, but going by the future potential of Ethereum, expect it to get even with the bears and bounce back soon.